The Arya advantage
We are reinventing the way people connect with jobs
Leoforce is the company behind Arya, the next-generation AI recruiting solution that delivers qualified, compatible talent for open roles. Arya meets the needs of anyone filling a job, regardless of business type, industry, hiring volume, or budget. We offer enterprise-grade solutions for businesses and staffing agencies, as well as on-demand solutions for seasonal hirers.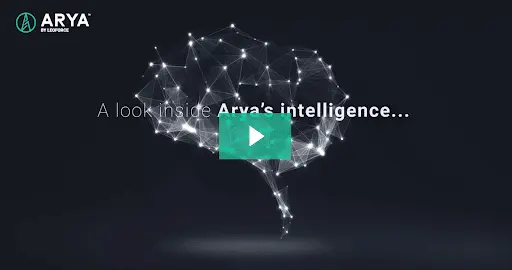 Better outcomes with Talent Intelligence
With Arya, our recruitment platform will empower you to have better outcomes with less hassle.
Integrate with your ATS
See all talent in one place, from your ATS, subscribed sources, and 850m+ candidate profiles.
Expand your talent pool
Access over 850 million talent profiles and integrate your internal talent and subscribed sources.
AI search and match
Built on multiple ML models, Arya matches jobs and relevant candidates more accurately than any other ATS or AI tools on the market.
Enhance recruiter efficiency
Enhance recruiter efficiency with an effective recruiter automation tool that decreases sourcing and shortlisting time by 50%.
Diversify your pipeline
Reduce unconscious bias and promote more diverse candidates in your pipeline, at no extra cost.
Streamline candidate engagement
Engage talent by call, text, email and chatbot from one consolidated dashboard.
Brands growing with Arya
Featured Report:
Recruiting & Staffing Industry Challenges: Analysis & Solutions
We surveyed 514 medium and enterprise staffing agencies across the U.S. to explore how the right AI automation, and talent intelligence tools can improve recruiter efficiency.
Products
Arya offers a full suite of AI-powered, cost-effective talent sourcing solutions to meet the unique recruiting and hiring needs of every organization.
Arya Quantum
Arya Fusion
Arya Concierge
Arya Applicants on Demand
Solutions
Arya offers flexible service and pricing plans to meet the needs of any recruiter, with a record of success in the industries and companies most in need of compatible candidates.
By Industry
Healthcare
Banking and finance
Technology
Manufacturing
Recruiter
Arya amplifies the recruiting power of your talent acquisition team.
Learn more
By Company
Staffing agencies
Large enterprise
Staffing agencies
Simplify workflows, streamline the candidate experience, and source more compatible candidates faster.
Learn more
Large enterprise
Easily integrate with your existing ATS or VMS and expand your reach and sourcing power.
Learn more
Customer success stories
Our Customers Share Their Success Stories
Integration partners
Deliver more recruiting power to your customers by integrating Arya into your ATS or VMS.





















Learn more
Find more compatible candidates with Talent Intelligence.
Discover how Arya goes beyond conventional AI recruiting.